Fecc/BCG webinar: "Chemical Distribution – The New Age of Winning"
12.12.2023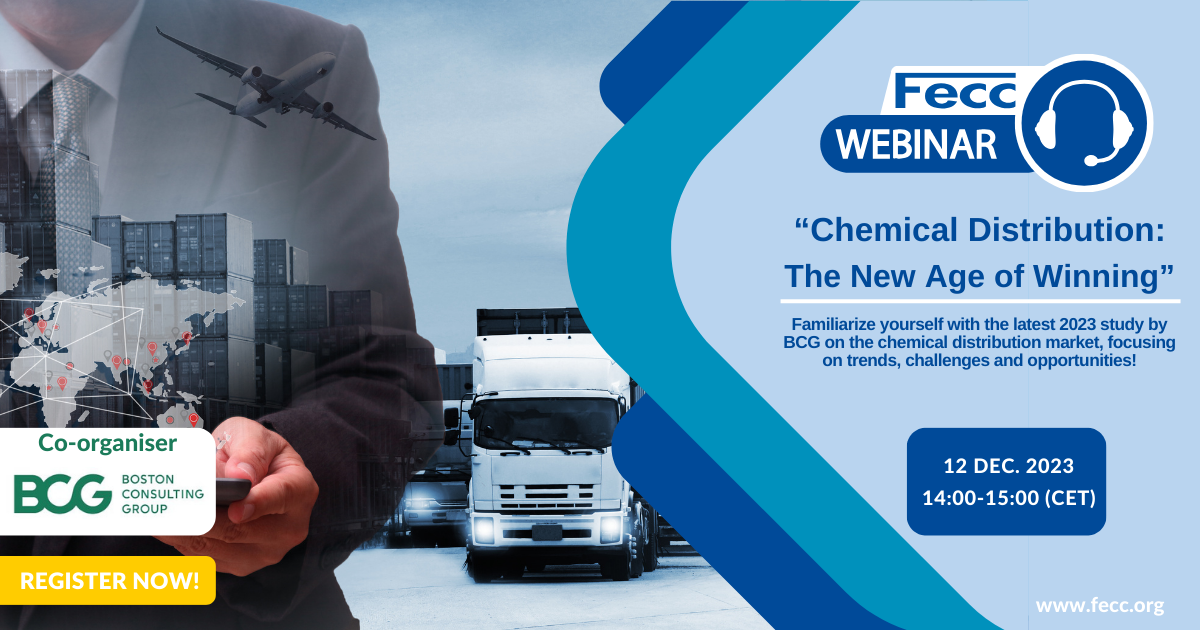 Fecc/BCG webinar: "Chemical Distribution - The New Age of Winning" | Familiarize yourself with the latest 2023 study by BCG on the chemical distribution market, focusing on trends, challenges and opportunities!
Co-organizer: Boston Consulting Group
Location: Online
12 Dec. 2023, 14:00-15:00 CET
Register here
Description
"Chemical Distribution: The New Age of Winning" is the title of the most recent BCG study about chemical distribution. It is based on empiric material, on latest chemical value chain trends & their impacts, distribution market developments & outlook, opportunities & challenges, winning strategies in midst of increasing uncertainties.
This webinar is a golden opportunity to learn more about the overall trends in the chemical value chain plus the distribution market in particular and there will be also ample opportunity to ask own questions. For those who were there, this webinar is the natural extension and complement of Madjar's presentation during the session in the Fecc congress 2023, entitled: "How to turn the challenges into opportunities for the chemical value chain?". In this slot Madjar presented excerpts from the aforementioned study. In this webinar, you will receive the extended version of it, revisiting the main insights and bringing many additional ones from this study and there will be also more time for ask your questions to the experts.
Speakers
Tobias Mahnke  is Managing Director & Partner of BCG's Munich office. His expertise includes end-to-end digital transformation, go-to-market strategies, and organization design for globally leading chemical companies. He has led several digital transformation programs in the chemical industry, including initiatives related to digital customer experience, new business model design, and the transformation of operations and support functions using Industry 4.0 technologies.
Madjar Navah is Managing Director & Partner of BCG's Düsseldorf office. He specializes in industrial goods, chemical distribution, and greentech. With extensive experience in large-scale transformations and strategy development, he has led global programs for family and non-family businesses.
The event is open to Fecc members and participants to Fecc Congress 2023 only.